Member
Join Date: Jul 2015
Location: Friendsville, PA (NEPA)
Posts: 2
Quote:
Here's my wifes 2015 limited.. i really want to find some real tires to go on this thing and some black wheels…we are from the Plattsburgh area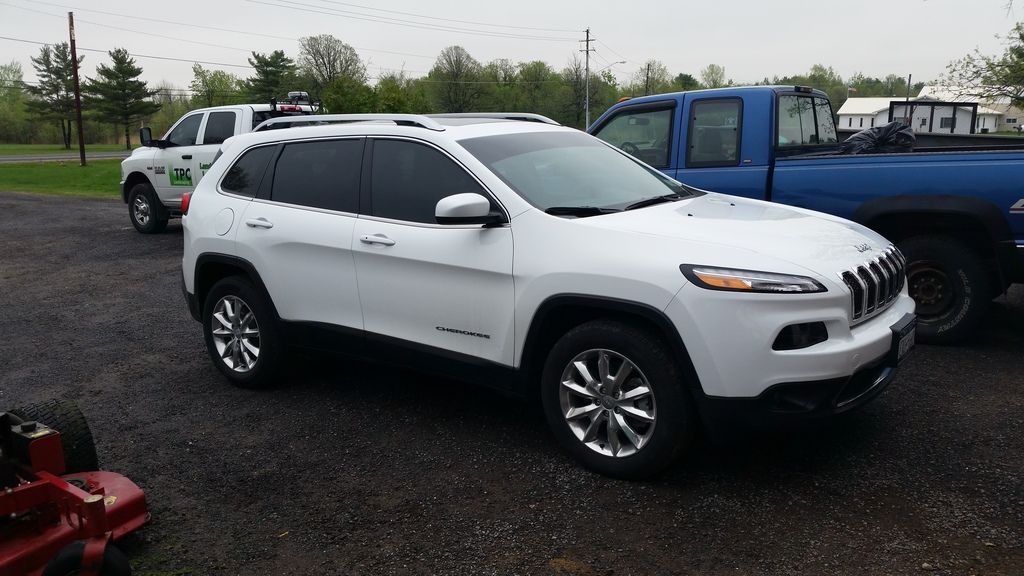 This is my Trailhawk. Bought in Cicero, NY. Read somewhere on here that TH tires and rims were purchased at an auction.
Member
Join Date: Jul 2015
Location: Syracuse, NY
Posts: 2
yracuse
---
Just joined bought the Mrs. a Cherokee limited.
Member
Join Date: Oct 2015
Location: Oneonta, NY
Posts: 2
Just bought a 2016 Cherokee Limited in Granite V6. I am in Oneonta, NY.
Hardcore Member
Join Date: Jan 2016
Location: Upstate Western New York. Just East of the Rochester metroplex
Posts: 682
I'm just due East of the Rochester Metro but still in Monroe county on the South shores of Lake Ontario just North of the Webster village center. I went to school out West and have a daughter who goes to Moab each year. I traded in the 2011 Grand Cherokee limited for a 2016 Cherokee Trailhawk last week. So far I love the vehicle although miss some of the techno perks of the WK2 limited.
My TH is Mango tango. My Lava Shark. I still barely have over 200 miles on the machine.
There are amazing trails around the Finger Lakes and Southern Tier that have roads that aren't maintained by stage, county or towns that are great for trail driving. It's not rock climbing or anything but challenging nonetheless. Plenty of places across the border in Ontario and down in the Alleghenies in PA.
It would be nice to get to know others jeep people that enjoy trail driving. Oswego is a place we drive through every Summer in route to the East side of Lake Ontario. Have looked at and am still considering as a place to send my daughter to in 2 years. I've lived in Brockport but that was 20 years ago. I've been in state for the past 10. I grow Riesling grapes in a backyard micro vineyard. I know the FL region well as 20 years back I managed home healthcare and oxygen to the areas West of Seneva Falls down past Dansville and almost East towards Lockport. Plenty of challenging driving and fun to be had.
For now I basically try to survive Winters as I get very nocturnal.
This is my ride with old weather package. Looking to upgrade the lighting to LED or HID. RR O rock slider/rails and front bumper with brush guard will come later.
What shall we have? An '82 Margaux! Is it any good? Good....?, It will make you believe in God!
---
"What shall we have first?"
" an '82 Margaux"
"Is it any good?"
"..Good. It is so good, you'll believe in God!"
Member
Join Date: Feb 2016
Location: Albany/Saratoga, NY
Posts: 5
Albany/Saratoga Meet up
---
Hello from Albany/Saratoga area! I would love to start a meet up group. I used to be the head of a Honda club and we met up and talked about different mods and things. Anyone interested????
Member
Join Date: May 2016
Location: Attica, NY
Posts: 2
Picked up 2016 Cherokee Limited April 27, 2016 and love vehicle for winters etc. Traded 2014 Cherokee and got good price. Happy with vehicle.

ram5thwheel
---
Last edited by ram5thwheel; 05-01-2016 at

03:29 PM

. Reason: spelling
ram5th -- I live in southeast PA, but co-own a radio business in Wyoming County, NY and drove my 2016 Cherokee up there several times this past winter. It performs wonderfully in the snow and on unpaved muddy trails to broadcast towers, etc. I'm at nearly 7000 miles with no problems -- best vehicle I've had so far. Have fun with yours!
---
2016 Jeep Cherokee Latitude (7/15 build)
AD1, 3.2L V6
Tow and Cold Weather groups, UConnect 8.4
Yaesu FT-857D HF/VHF/UHF Transceiver w/Little Tarheel HP "screwdriver" antenna
Icom ID-880H 2m/70cm D-Star/FM Transceiver w/Diamond SG7500A antenna
Member
Join Date: Mar 2016
Posts: 6
I'm from the Albany NY area. Anyone else close to me???